Surety Bond Services
Bonding Relationships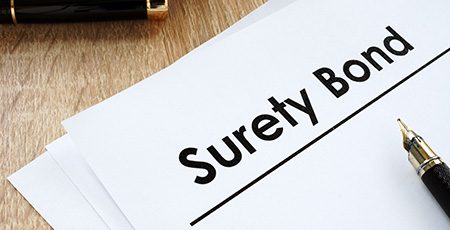 Having a competitive, supportive, and flexible surety program in today's marketplace is critical to your success. Due to the nature of the construction business, both private and public owners have come to rely on surety bonds as part of the construction contract. As such, establishing a long-term business relationship built on trust and mutual respect with your bonding agent and surety company is of paramount importance. The Brehmer Agency has unsurpassed industry knowledge, trust from surety partners, and a wealth of expertise to provide the service, capability, and competitive rates vital to your success.
Our Goal Is To Help You Reach Your Goals
---
Types of Bonds
Bid Bond
A bid bond is submitted at the time of a project bid. This type of bond guarantees:
The contractor has financial assurance from the surety company
Their bid has been submitted in good faith
The contractor will enter into a construction contract at the bid price
If the contractor fails to comply with any of the above, they will forfeit the bid bond penalty amount. Bid bonds are short-term bonds that are invalidated when construction contracts are executed and performance/payment bonds are issued.
Performance Bond
A performance bond is a guarantee by the surety company stating the contractor will perform the work in accordance with the contract terms and conditions. If the contractor fails in the performance of the contracted work, the surety company may be obligated to complete the project in accordance with contract specifications.
Payment Bond
A payment bond is a guarantee by the surety company that the contractor will pay all employees, suppliers, and subcontractors providing labor and/or materials associated with a bonded project. If the contractor fails to fulfill payment obligations, the surety company may be required to make the appropriate payments necessary to ensure the project will have a clear title and no mechanics liens.
License and Permit Surety Bonds
License and permit surety bonds are designed to protect consumers by ensuring businesses perform jobs according to the rules and regulations set forth by local, state, and federal governments.
There are a wide variety of surety bonds to guarantee license and permits such as electrical license, plumbing license, concrete contractor license, road opening permits, road use, and hauling permits.
Commercial Bonds
Commercial bonds include a wide range of surety bonds including but not limited to completion bonds, subdivision bonds, release-of-lien bonds, tax obligation bonds, and more.
---
Why Choose Brehmer
The Brehmer Agency:
Is well respected and has a reputation for integrity in the surety bond industry
Demonstrates a personal interest in the success of customers
Has a track record of building solid relationships with surety underwriters
Understands the surety and construction industry
Has knowledge of banking, finance, and construction accounting procedures
Has knowledge of construction contracts, subcontracts, and related contract law
Is aware of local, regional, and national market trends that impact surety
Is experienced in strategic planning and management practices that promote the success of a customer
Is actively involved in and supports local and national trade and surety associations
Can provide advice to enhance your bonding capacity
---
Information Needed For Bonding Marketing Submission
The list provided is an outline of the basic information needed to properly market a bonding program.
Completed Contractor Questionnaire 
Year-end financial reports from the last three years and a current interim report if available
Personal Financial Statement for all owners
Bank letter outlining the Line of Credit (LOC), past experience, and reference from the bank
Schedule of Work in Progress (WIP)
Surety credit desired per job and aggregate
Current bond rates
Insurance certificate
Federal Employer Identification Number (FEIN)
Any additional information requested from surety company
---
Surety Bond Facts & Resources
Provided are several useful resources from NASBP about Surety Bonding.
---
Surety Bond Markets
| | | |
| --- | --- | --- |
| | | |
| | | |
|   |   |   |
| |   |   |