Safety and Loss Control Services
Your Partner for Safety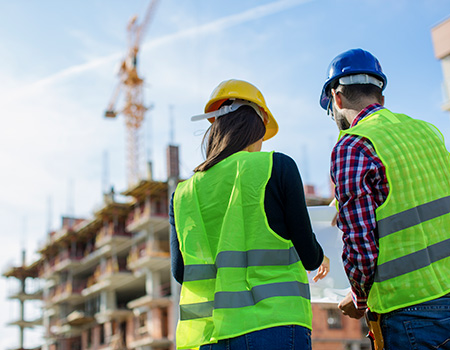 Complying with established safe work practices and regulations isn't only a moral and legal obligation; it is essential to remain competitive in the marketplace. There has been a dramatic shift in the insurance industry to prequalify suppliers, vendors, and contractors working within a given company. Items such as claims history, Experience Modification Rating (EMR)*, strength of written safety programs, and a variety of other standards are now used in the prequalification process for bids of all kinds. Deficiencies in any of these areas can be utilized as reason to not award contracts, projects, or purchase orders to companies.
Running a business is demanding and many owners are not experts on every intricate safety requirement or standard. Our on-staff safety professionals are here to assist in administering safety programs and supplementing safety protocols. Clients who take advantage of these services typically see a decrease in the loss frequency and severity of insurance claims while experiencing lower insurance premiums as a direct result.
* The Experience Modification Rating (EMR) is utilized by insurance agencies to determine the cost of compensation premiums for workers. This rating reflects a variety of indicators, such as injury costs or claim history, to predict future risk.
---
Safety Services Offered
Safety Program Review and Development
Early/Transitional Return-to-Work Program Development
Workers' Compensation Claims Management Strategies
Job Site Occupational Safety and Health Administration (OSHA) Compliance
Loss Control Audits
Machine Guarding Assessments
OSHA 10-Hour Training Courses for Construction
Job Specific Hazard Analysis
Accident Investigations
Department of Transportation (DOT) Compliance Consulting
OSHA Citation Abatement Assistance
Field Safety Training
Personal Protective Equipment (PPE) Assessments
---
Cost of Services
The Brehmer Agency provides the safety services outlined above to established insurance clients at no additional cost. These safety services are intended to supplement the ongoing efforts of a client's management team. Though the offered safety services can have a positive impact through increased safety awareness and reduced workplace injuries, it remains the sole responsibility of all clients to provide and maintain a safe working environment for their employees.
Please contact the Brehmer Agency to schedule an appointment with one of our experienced safety professionals. 
---
Recommended Safety Articles
Provided are several useful resources provided by the Brehmer Agency focusing on safety in the workplace.